Teare name  – origins and distribution
The name Teare comes from the Isle of Man and is a derivation from Manx gaelic "Mac y Teyir" which in turn derives from the Scots gaelic "Mac an tSaoir", or its anglicised form "M(a)cintyre", meaning son of the craftsman, from "Mac", son of, with the definite article "an", and "saoir", genitive of "saor", artificer, craftsman, wright.
Today there are about 2559 people in the world called Teare and it is the 147,910th most common name in the world.  (See www.forebears.io/surnames which uses a surname distribution database of 1,587,475,724 people, containing forename, surname and geographic references)
The Teare name is recorded from 26 different countries and the Isle of Man has the highest density of Teare per head of population with a frequency of 1:662 but it is only 6th in terms of incidence with 130 individuals. The highest incidence is in England (801) and then USA (764), which is understandable given the long history of immigration between these countries. William Tear and family were amongst the earliest Manx families arriving in Ohio in 1826 (www.isle-of-man.com/manxnotebook).
However the fact that Chile is ranked 3rd, with 300 individuals and just ahead of Canada is a surprise. If you search facebook or linked in it is quite easy to find Teare's in Chile from but what is the origin of these families?
Worldwide Distribution of 2559 people named Teare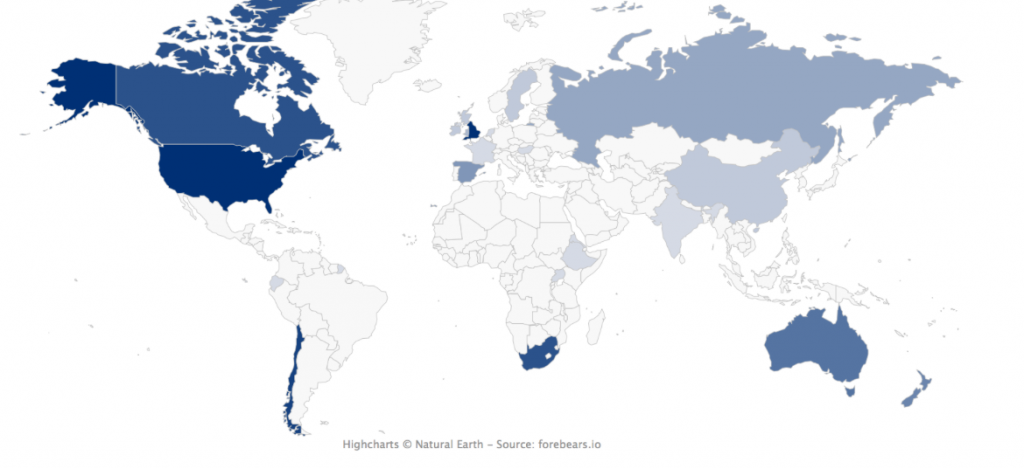 Top 10 countries incidence of Teare name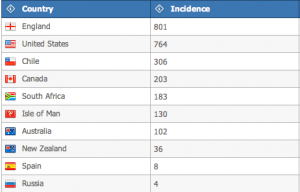 In the 1881 census there were 657 people with the name and the UK / Isle of Man and the distribution was:
Isle of Man     493
Lancashire       129
Cumberland     8
Middlesex       7
Norfolk           7
Still to investigate census returns outside UK / IoM to complete this historical picture . . . . .
Click on the link Teear, Tear, Teare, Teer, McTear One Name Study for more about these names