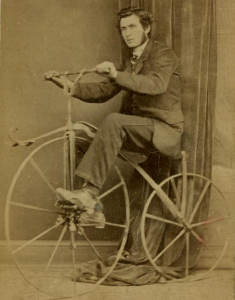 Most people hearing of 'cycling' and the 'Isle of Man', will probably think of Mark Cavendish and Peter Kennaugh, both sportsmen who have achieved amazing success.
But someone else who deserves recognition in the field of Manx cycling is the man who manufactured the first ever cycle on the Island.
In the picture is John Henry Teare, sitting on the machine he made when he was about 19 years of age.
The son of a blacksmith from Andreas, (baptismal record for 13 Feb 1847), the cycle was completed at Smeale Smithy in either 1866 or early 1867.
The handwritten annotation to the photograph states it was taken in c.1867 so it's possible this was done to commemorate the achievement.
(source: imuseum http://bit.ly/2llUcEj)
.