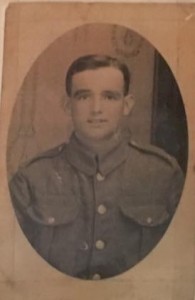 Charles Henry Teare was born 23 January 1895 in Douglas, IoM, son of John Teare, a general labourer and Lydia Margaret Clague. In 1901 the family was living at 12 Barrack Street and there were 5 siblings George S, John F, Gladys E, Thomas A and Margaret L. In 1911 Charles was working as a message boy.
Charles was first a private in the King's Liverpool Regiment (No. 26942) but in November 1918 he was private 48822 in the Royal Inniskilling Fusiliers 6th Battn.
The 6th (Service) Battalion Royal Inniskilling Fusiliers transferred to the 151st Brigade of the 50th Division in July 1918 and engaged in various actions on the Western Front including; The Battle of the St Quentin Canal, The Battle of the Beaurevoir Line, The Battle of Cambrai 1918, The pursuit to the Selle, The Battle of the Selle, The Battle of Valenciennes. These are referred to as the battles of the 100 days being the final battles on the western front before the defeat of the German armies and the armistice on 11 November 1918.
Major General Sir Archibald Montgomery writing the story of the fourth army in the battles of the 100 days August to November 1918 recalled 'Throughout the remainder of November 7th considerable fighting took place. The numerous sunken roads, copses, and hedgerows concealed the enemy's machine-guns which covered the withdrawal of his rearguards. Slowly but surely, however, each centre of resistance was located and dealt with in turn. Particularly severe was the fighting in the 50th Division area in the village of Dourlers, which was captured by the 6th Royal Inniskilling Fusiliers supported by the 1st King's Own Yorkshire Light Infantry.'
Charles Teare died of wounds on the 7 November 1918 and is buried in Dourlers Communal Cemetery Department du Nord, Nord Pas de Calais, France and so it seems very probable that he was in the severe fighting when the 6th (Service) Battalion Royal Inniskilling Fusiliers took the village of Dourlers on that day.  He is remembered on the Onchan War Memorial, Harris Promenade Memorial, Douglas and in the Ireland Memorial Records 1914-18.
THE STORY OF THE FOURTH ARMY IN THE BATTLES OF THE HUNDRED DAYS AUGUST T0 NOVEMBER 1918 MAJOR GENERAL SIR ARCHIBALD MONTGOMERY https://archive.org/stream/storyoffourtharm00mont/storyoffourtharm00mont_djvu.txt
Thank you to Carolyn Moore and relatives of C H Teare for permission to use this photograph