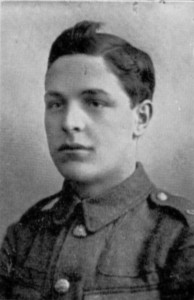 James Percival Teare (Percy) was born 23 August 1896 in Everton, Lancashire. His parents were Edward George Teare, originally from Darlington, Co Durham and Emma Eliza Skillicorn, originally from Douglas, IoM.
When Edward was born his father was a clerk but later he became the branch office manager for the Liverpool Echo. In 1901 James was living in Park View, Aughton, Lancashire with his parents and siblings Emma, Elizabeth, George, Lillie, Grace and Clifford. By 1911 the family were living in Stanleys Road, Bootle and he was finishing school. His older brother George was working with his father at the Liverpool Echo.
James started working as a clerk in the forwarding dept of the North Docks Station of the Lancashire and Yorkshire Railway and was also an energetic member of the Bootle Baptist Church. He enlisted into The Kings (Liverpool) Regiment  1st/7th Bn. on 14 May 1913 in Bootle aged 17. At his medical examination in 1914, when he was 18 years old, it was recorded that he was 5 feet 8 inches tall and 9 stones 6 lbs and his older brother, George, was on active service in Salonika.
He was inoculated on 23 February and embarked for France on 7 March 1915. Just over 2 months later he was killed in action on 16 May 1915.  A letter from from Signaller E. Weller (Ern), of the 7th King's to his parents recalled that there had been 'a fierce attack by our Battalion upon the German trenches. "C" Company was ordered to advance. Machine guns were turned on them, and very few got back safe. At night some of our wounded crawled back. Many of them I spoke to, but could obtain no definite news of my dear friend. Two days later it was official that he had been killed. May God help you to bear this terrible blow. Try to think of Percy as called from a world of pain to be with the Master he loved so dearly.'
 In his will Percy left his pay to be divided between his mother and his fiancée Barbara Roberts. He has no known grave but is commemorated at the Le Touret memorial Richebourg-l'Avoue Department Pas de Calais, France and the War Memorials in Bootle and Stanley Road Baptist Church, Bootle.
See also : http://www.merseysiderollofhonour.co.uk/obits/156/1562926.php