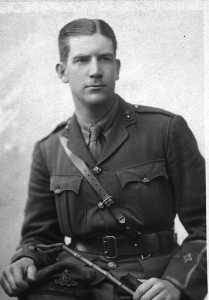 John Stewart Teare was born in Balwyn, Victoria, Australia in 1893 the second son of  John Corlett Teare and and Marion Melville McLulick Smith. John Corlett Teare was born in the Isle of Man and worked at Bennie, Teare and Co of Beckett Street Melbourne who were the sole Australian distributors for the Birmingham engineering company Tangyes, manufacturers of large engineering equipment used in farming, industry and mining.
John Stewart Teare was also working for Bennie, Teare and Co. and he enlisted in England in 1914, when he was at Birmingham University studying electrical engineering. He was first a private in the King Edwards Horse and 6 months later he gained a commission in the Royal Field Artillery (RFA) 180th Bde. He was posted to France in December 1915 and  promoted to 2nd Lieut  and then Lieut. He was awarded a Military Cross for valour in 1916.
He was killed in 1917 and with no known grave his name is recorded on the Menin Gate Memorial, Ypres, West Flanders, Belgium.
His elder brother, Athol M Teare, served in the Australian Imperial Force, New South Wales Division and gained an MC for conspicuous gallantry and devotion to duty. He was wounded in this action and hospitalised in England before returning to the front. He returned to Australia after the war. His younger brother Philip Teare joined the Australian Imperial Force becoming a Captain in the artillery.