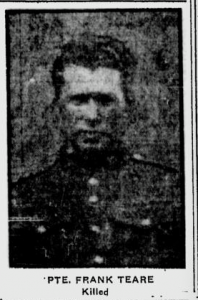 Frank was born in Peel in 1889 son of William Edward Teare sailmaker and partner in Teare and Sons ships chandlers and Eleanor Morrison daughter of Charles Morrison, a Peel grocer. They lived at 2 Crown Street.
Frank had an older stepbrother Frederick William, an older brother Archy (died in 1907 aged 11) and a younger brother Edward Morrison Teare. Frank's older stepbrother Frederick was a merchant seaman and by the time war broke out in 1914 he had his masters certificate and was a river pilot in Rangoon, Burma. (See link Frederick Teare)
Frank attended King William's College and was a keen sportsman enjoying golf and playing football for Peel AFC.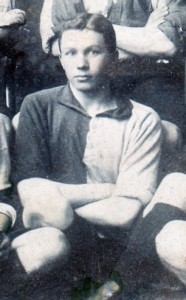 He was a member of the cup winning team of 1908/9 when Peel defeated Wanderers 2-1 at Tromode.  He became a surveyor and architect apprenticed to J.E. Teare of Douglas and in 1911 he emigrated to Quebec, Canada on the Empress of Ireland. He settled in Ontario and worked for the Canadian Government as a surveyor in the northern Alberta Region.
He enlisted into the Canadian Army in Calgary, Alberta in 1915 at the age of 26. His height was 5 ft 7inches and he had a fair complexion and hair and grey eyes.  The army had previously rejected him because of his eyesight, which was adversely affected by snowblindness caused during his surveying work.  He was drafted to England where he finished his training at Bramshott Camp before being sent to France where he was involved in the 1916 Somme offensive. He had a months furlough in Peel in January 1917 before returning to his regiment. He had been promoted to Corporal and was killed on 10 April 1917 taking part in the Canadian army campaign attacking and taking Vimy Ridge, a heavily fortified high point to the west of the town. The Battle of Vimy Ridge was fought between April 9 to 12 as part of the greater Battle of Arras. On April 10 the Battalion was near Hill 145, attacking at 3:15 p.m. and achieving all objectives by 3:45 p.m. even though enemy resistance was strong, the unit was relieved from their new positions that night.
Frank is remembered on the memorial at Cabaret-Rouge British Cemetery, Pas de Calais, France and on the Peel War Memorial.
He was killed within a few miles of his stepbrother Frederick Teare who was wounded at Fampoux on the 11 April in the battle of Arras and later died of his wounds in Etaples Military hospital on 23 April 1917.
Frank's younger brother Edward Morrison Teare served in the Royal Engineers, survived the war and eventually retired to Peel and became a Peel Town Commissioner.
Thank you to Barry Bridson who supplied this photo of Frank Teare's medals and the plaque sent to the families of all who were killed on active service.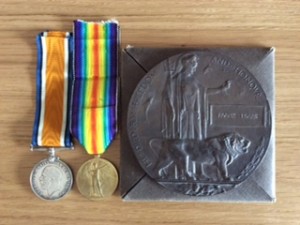 More about the battle for Vimy Ridge at http://www.firstworldwar.com/battles/vimyridge.htm
Vimy Ridge Canadian Memorial  http://www.warmuseum.ca/firstworldwar/history/after-the-war/remembrance/vimy-memorial/