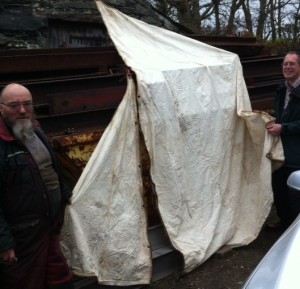 It's always great when someone contacts me through Teare and Sons website to ask more details, correct me or give me more information. But it was quite a surprise when John Cowley contacted me to say that he had the last set of sails that had been made by Freddy Teare and would I like to see them?
Freddy Teare learned his trade as a sailmaker from his father, John and also whilst working in Barrow during WW1 when he was making all sorts of canvas covers for guns and equipment on battleships. Sailmaking was a 'reserved occupation' so he wasn't called up into the army. Freddy Teare and his father John brought the Teare and Sons sailmakers and ships chandler business from their cousin Edward Morrison Teare after the end of the first world war. Teare and Sons continued in business on the Quay at Peel until 1964, increasingly making sails for yachts as the fishing fleet turned first to steam and then diesel engines.
Richard Cowley (John Cowley's father) and Freddy used to go fishing together. Around 1963 Richard Cowley made a small fibre glass boat (10 foot 6 inches length) when working at Peel Engineering and so he asked Freddy to make him a set of sails. I contacted Freddy's son, John Teare, and when I was in Peel in February we arranged to go and see John Cowley.
The day wasn't ideal as it was a bit damp but we managed to hang the sails in the yard and have a good look at them.  The white cotton sailcloth sails are in good condition for their age and probably haven't been used that much. The seams have been machine sewn but the sewing in of the thimbles for connecting the halyards and sheets is all done by hand and lovely to see as is the roping around the edge of the sails and the way it has been reduced in diameter where it finishes. I've included a few pictures here, which show the craftsmanship in these little sails. We'll have to go back and get some better pictures when the weather is drier. Many thanks to John Cowley for contacting me and letting us see and touch this bit of sailmaking history and Peel craftsmanship.